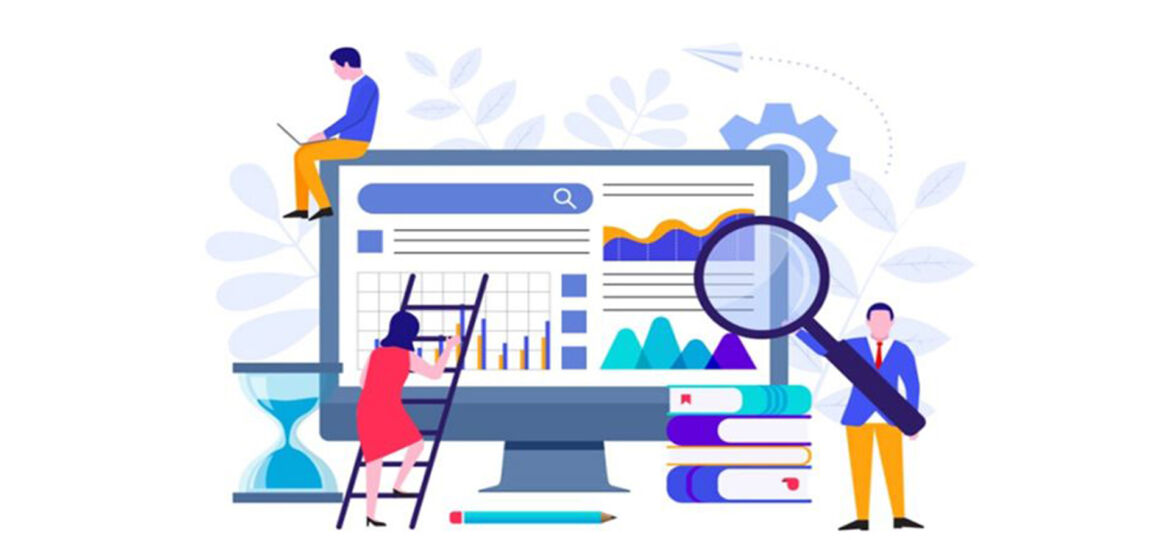 Do you know that your web host or web hosting plan can affect your SEO efforts? If not, you should be aware that it might be the reason your SEO strategies fail to give expected results.
After all, Google takes into consideration more than 200 factors when ranking your website, including web hosting factors. So, it is necessary to choose a host and hosting plan that suits your requirements and does not affect your website.
Also, you should note that your hosting plan need not be expensive but right for your website. So it is crucial to pick a host accordingly.
Here we will be discussing the web hosting factors that could hurt your website's SEO and the type of web hosting you can expect from your web hosting service provider for better SEO results.
Website Speed
One of the major factors for search engines when it comes to ranking your website is your website speed. And your hosting plan plays a critical role in determining your website speed.
The average value for various website speed factors are as follows: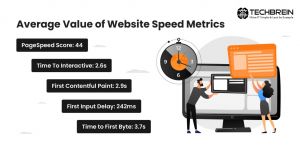 What do these numbers mean? Let us help you there.
PageSpeed Insights Score
A tool developed by Google, PagesSpeed Insights analyzes your web page contents and shows suggestions to improve website speed. The average PageSpeed Insights score is 44, which can be easily achieved on a PC. On the other hand, going past this score on a mobile can be difficult, especially with slow web hosting.
The score is calculated based on several factors like optimization, caching, etc, and an expert host can solve any issues to improve your website's score. Moreover, if your website scores well on other website speed testing sites, it will also score well on Google's PageSpeed Insights.
Time to Interactive (TTI)
It is the time taken for your website to be ready for users to interact with its contents, and 2.6 seconds is considered as the average time to interactive or TTI. Your website's ranking will drop significantly if its TTI increases.
First Contentful Paint (FCP)
The time when the first bit of content from the DOM is rendered by the browser is the first contentful paint or FCP. The content displayed can be texts, images, and so on. The average FCP is 2.9 seconds, and a website needs to show its first content within this time to avoid any impact on its SEO.
First Input Delay (FID)
First input delay or FID is the time it takes to complete a user's first interaction with your website. It is the measurement of the time from when the user performs a click on your website to when the browser responds to that click. An average FID score of 242 milliseconds or anywhere between 100 milliseconds and 300 milliseconds is required to keep up your SEO efforts. However, an FID score of 100 milliseconds or less is considered good to provide a better user experience.
Time to First Byte (TTFB)
It is the measurement of the time from when your website user makes an HTTP request to when the user's browser receives the first byte of the web page. After Google's recent core update, 4 seconds is set as the maximum limit for TTFB, exceeding which your website's SEO gets affected.
Now that you know the average website speed metrics, here is why website speed is important.
Convenience
The better your website speed is, the more convenient it will be for your users. Search engines like Google regularly update their algorithm to enhance user's convenience by ranking websites that load faster higher.
So keep your website's load speed below 4 seconds, and if it is an e-commerce website, keep it below 3 seconds. And to achieve this, you need a host providing fast web hosting.
Bounce Rate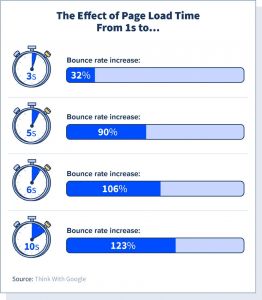 Bounce rate represents the percentage of visitors that leave your website after clicking it rather than waiting for it to load or continuing to other web pages. The slower your website loads higher will be the bounce rate. A fast web hosting plan helps here as well by reducing website load time and bounce rate.

According to a 2017 Google study, the probability of bounce increases 32% as page load time goes from 1 second to 3 seconds.
Profit
Slow-loading websites can affect your earning potential by cutting down the total number of visitors. Furthermore, you are losing leads that can be crucial in growing your business. Therefore, make sure that your host can provide fast web hosting, and if not, switch to a more reliable host using domain transfer services.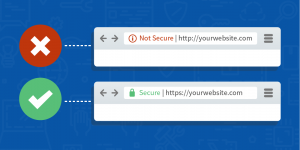 SSL Certification
An SSL certificate is essential for your website as it helps build trust in your users by giving the assurance that your website is secured. Apart from that, it also boosts your website's rankings since it is a ranking factor for Google.
In early 2017 itself, Google chrome started warning users of non-secure websites. And if your website does not have an SSL certificate installed, users will be reminded of it whenever your website asks them for information.
Therefore, whether your website contains sensitive data or not, installing an SSL certificate is a requirement these days. Above all, if the user does not trust your website, Google will not too, and your website's ranking will go down.
One study even showed that e-commerce websites with SSL certificates observed an 11 to 42% rise in conversion rates.
Server Location
The location of your web host's server affects your website's SEO as well. The loading speed and performance of your website improves if the server is close to your users. And as you may know, your website's ranking depends on its speed and performance to a great extent. However, the physical location of the server does not matter as long as your website uses cloud hosting from a cloud hosting service provider.
But, if you are using dedicated, shared, or VPS hosting, server location can be a concern. So before choosing a host or hosting plan, find out the major sources of your website's traffic. Then pick a host with a server in that location.
For instance, if you are hiring a dedicated server hosting company, ensure that the server is located where most of your users are from. Or else, go for a host with servers around the world.
Server Uptime
The duration for which a server fully functions and runs is called server uptime, and it represents the performance of a server. Though you cannot expect 100% uptime assurance from a host, look for the one that can guarantee 99.9% uptime.
A 99.9% uptime equals a yearly downtime of 8.76 hours, and it reduces to 3.15 seconds per year if the uptime is 99.99999%.
Server downtime makes your website unavailable for users. Further, your website's ranking will go down if it is constantly being inaccessible to users. It happens even if your website appears on top of the search engine results page or SERP since user experience is given top priority.
Your website is like a physical store. If it is not available, your website visitors might move to other websites, probably your competitors'. You can't let that take place because you are not only losing your leads but your website's reliability as well.
So it is crucial to select a web host capable of providing maximum uptime as well as technical assistance as and when required. Here are some factors that emphasize the need for server uptime close to 100%.
Customer Satisfaction
You cannot let your users know what it is like to use your website if it is not up all the time. So try and keep your website up and running. It makes your website trustworthy and reliable besides helping you make the most out of your SEO efforts.
Performance Data
Server uptime also gives you valuable data on your website's performance, including data regarding its uptimes and downtimes. It can help you know why your website went down and take appropriate measures in the future using the right tools.
Revenue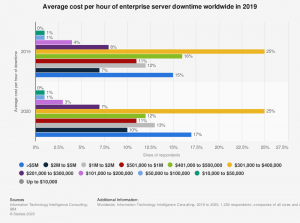 Every time your website goes down, you are losing your revenue. Besides financial loss, your website's credibility and reputation are also affected due to server downtime.

In a 2020 survey, 25% of respondents worldwide reported the average server downtime cost as between 301,000 and 400,000 U.S. dollars per hour.
To avoid revenue losses and to keep growing, you need to ensure maximum server uptime. So select a web host that offers the best uptime guarantee.
Website Caching
If your website still slows down even after compressing and optimization, it might be due to improper caching. The process of storing copies of files in a cache is known as caching. A cache is a temporary storage location that stores copies of files. The purpose of caching is to serve data faster when the same request is repeated.
Your website speed decreases when the cache gets accumulated in parts of your control panel. In such cases, you have to do manual caching. If your web host provides you with server caching, you need not worry about doing it manually.
Usually, you cannot expect server caching in a basic shared hosting plan since it requires special architecture. So check with your host before picking a plan. Proper caching of your website helps you improve your website's load time and thus the efficiency of your SEO strategies.
From what we discussed above, you might have an understanding of how your web host or web hosting plan affects your SEO. And if your hosting plan harms your SEO, you can always change your host.
Having said that, now you might have another question. Does switching hosts affect the SEO efforts you have made so far?
Yes, it can affect your SEO depending on the steps you take to make the switch as well as the new host.
Your new host can cause an impact on your SEO if
The server location of the new host is not the same as that of your website.
The new host does not offer excellent hosting services.
The new host downgrades your current hosting plan.
The new host carries out considerable changes in the structure of your website.
Still, you can move to a new host without affecting your SEO. And here are some of the crucial steps to consider while doing it.
Anticipate the change it can cause on your users, website operators, search engines and address each one of them to maintain your SEO.
Share information like your website's new hosting location and structure with search engines.
Set up your website on the new hosting location and ensure that your domain name is transferred to the new location.
Do not shut your old website until the transition period is over. It should be at least 180 days.
Only shut down the old server once your new website is fully functional.
When redirecting to your new website, execute a page to page redirect rather than a blanket redirect to eliminate the effect on your SEO. Also, verify that all your website links are redirected to the new location.
Conclusion
In a nutshell, web hosting factors such as website speed, SSL certification, server location, server uptime, and website caching can affect your SEO. And so, your web host can be a reason for your SEO strategies to fail.
In such a case, you can switch to a better web host that can assist you in developing your website in every way possible. Moreover, you can change your web host without hurting your SEO. To do so, you have to follow certain steps, such as addressing the issues that could arise while switching your host in advance and ensuring your website is fully functional after the migration.